School Enrichment
This page is intended to provide helpful information for school directors, principals, or nursery schools. If you are a parent and would like to see our program offered in your child's school, please either use our request form, contact our office 808-633-4070 or email Tom@KeikiSoccer.com
Keiki Soccer Pros Inc. proudly offers after school and enrichment programs. These programs offer parents the convenience and trust in knowing that their child is learning soccer in a familiar environment.
We have several options, making it easy to find the one that fits best with your facility's needs.
We visit your location to find the best area for soccer: usually 60×40 feet flat, grassy area. We do NOT need an "official" or full size soccer field.
Most classes run for 40 to 60 minutes, depending on age, and meet once per week.
We are fully insured and will add your facility to our policy.
We are happy to provide personalized marketing materials and process class registrations, making it easy to promote the soccer program to your parents.
We will also list your school on our official class schedule on this website, which helps draw new parents into your program.

Enrichment
Soccer is a fantastic addition to your current school offerings. Children work on motor skills, flexibility, eye-foot coordination and fitness in our class. Soccer also serves as a positive social setting to sharpen communication, listening, and sportsmanship skills of each child. Under the Enrichment program, our classes are offered as an "add-on" to your current curriculum, during your regular school hours, at the day and time that you wish.
Parents register for this program through our website. We provide Professional Soccer Coaches, Soccer Equipment and T-Shirts for the kids, for a flat per child fee. You may choose a program ranging from 8 to 18 weeks. Classes usually meet once per week, with greater frequency also being an option.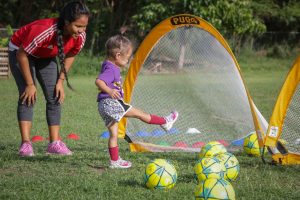 After School
Our After School Program offers parents a later pick-up time for their child, and the confidence of knowing that he or she is having fun while learning the world's most popular sport of Soccer in a trusted environment. You have the option to choose the day/time and we provide the Professional Soccer Coaches, Soccer Equipment, and T-shirts for a flat per child fee. Parents register through our website, and you choose the total tuition amount for the class. You choose the duration of the program (eight week minimum), as well as the start/end dates. Classes usually meet once per week, but a greater frequency is also an option.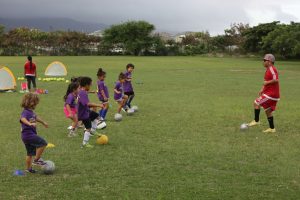 Rental Space
We book a series of soccer classes at your facility or field, usually once a week for 8 weeks at the same time. We pay a per-class or per-season rate or donation. We handle the registrations and collection of tuition. We may also advertise in your paper, bulletin or newsletter for an additional fee paid to your church/school. We are fully insured and will add your appropriate information to our policy. Dates/Times are mutually agreed upon and payment made prior to the start of the rental period.
To schedule a meeting to talk about adding Keiki Soccer Pros program to your Church, School, or Daycare, please call our office: 808-633-4070 or email Tom@KeikiSoccer.com